Hundreds of Balinese braved pandemic restrictions and crowded the streets of Bali's capital on Friday 21/1/2022 to see King Pemecutan XI, a once convicted killer cremated in an elaborate ceremony known as a Ngaben.
Villagers dressed in traditional Balinese clothes carried the king's body in a colorful 30-foot wooden tower, followed by a huge Ogoh Ogoh covered by black umbrellas called tedungs, which literally means "to guard." In this case, the king of Denpasar was protected by Vishnu, who is the merciful guardian of life. He and his wife, the Goddess of Fertility, will start a new cycle of life.
Raja Pemecutan XI (also known as "Cokorda XI") died at his Denpasar home at 6 a.m. on Wednesday, December 22, 2021. According to reports from Denpasar's Puri Pemecutan, the king had been under treatment at a small hospital near his palace for more than two months before his death, due to his heart and other complications.
King Pemecutan XI is mourned
Cokorda XI was a major force in uniting the island's inter-religious communities, and his death was mourned by the Balinese population, he died at the age of 76, leaving four children behind.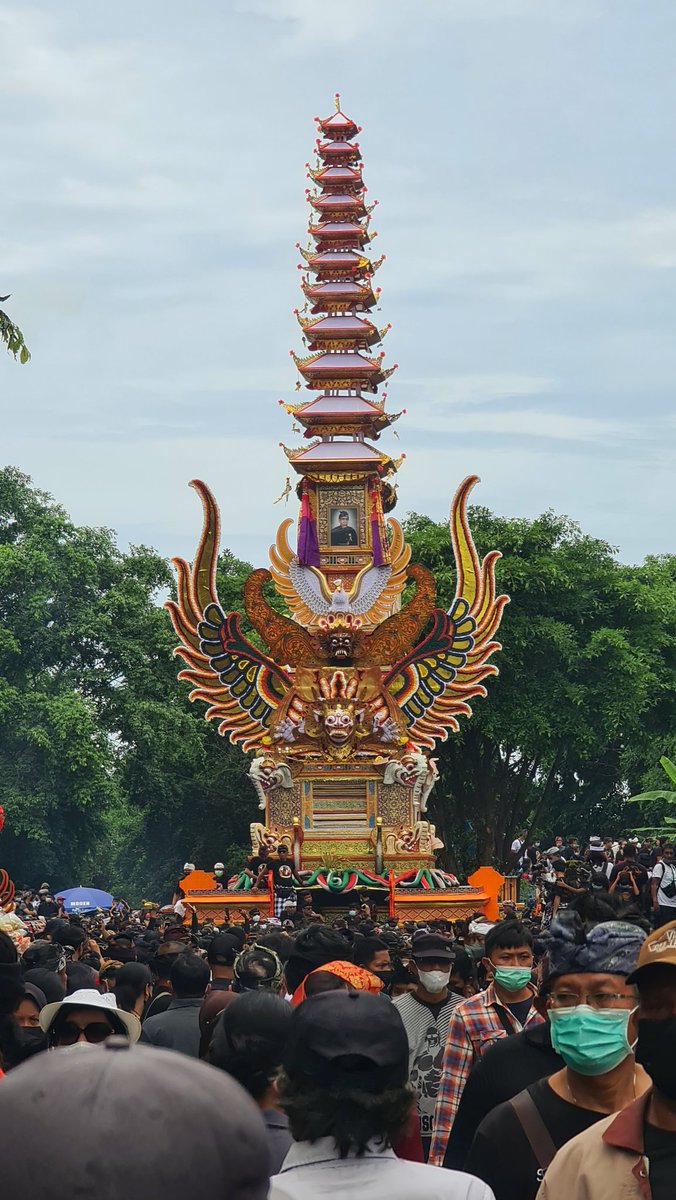 His body was put in an ox-shaped sarcophagus called a lembu, which was carried by villagers moving in three concurrent circular motions. This was done to confuse the evil residents in the lower realm and keep them away from the king.
Final hymns were chanted, and after starting the cremation fire, beleganjur music was played while his body burned. It was a battle song symbolizing the kings souls fight with the underworld before it could reach the worry-free upper realm.
In 12 days, his family will return to collect the ashes, fill it inside coconut shells, and carry it to the sea, back to the elements, in a final act of purification.
Murder that shocked the city of Denpasar
How could anybody forget the 2003 murder that shocked the city of Denpasar?
The day began with several family members meeting to discuss the construction of a parapet inside the Puri (Kingdom-red) Pemecutan, a palace on Denpasar's Jalan Thamrin.
Puri, or palace, is a complex collection of structures, each of which serves a specific function as the seat of administration and residence for the king and his family. It consists of a worship building, a residential building, and a common function building, all of which must be presented in a harmonious way.
On Tuesday, October 11, 2003, however, harmony was nonexistent. Unwilling to accept that his son had been assaulted , King Pemecutan XI grabbed a knife and defended him. There was a brief struggle before the king and his half-brother both fell into a fishpond, the king stabbing his half-brother in the stomach, who died on the way to the hospital.
King Pemecutan XI was later found guilty, and even though his lawyer was unhappy with the judge's decision, the king was happy to accept such a light sentence for murder. A year later, he was freed.
This was an important ceremony for Cokorda XI , whether he will reincarnate or find eternal rest in Moksha (freeing from the cycle of reincarnation and death), that is up to his Gods.
जाति नीति कुल गोत्र दूरगं
नाम रूप गुण दोष वर्जितम्।
देश काल विषया तिवर्ति यद्
ब्रह्म तत्त्वमसि भाव यात्मनि॥ २५४ ॥


Vivekachudamani, 8th Century CE
Beyond caste, creed, family or lineage,
that which is without name and form, beyond merit and demerit, that which is beyond space, time and sense-objects, you are that, God himself; Meditate this within yourself.
Check out the next article here on the most recent Islamic terrorist caught.
Check out other cultural currents of the day